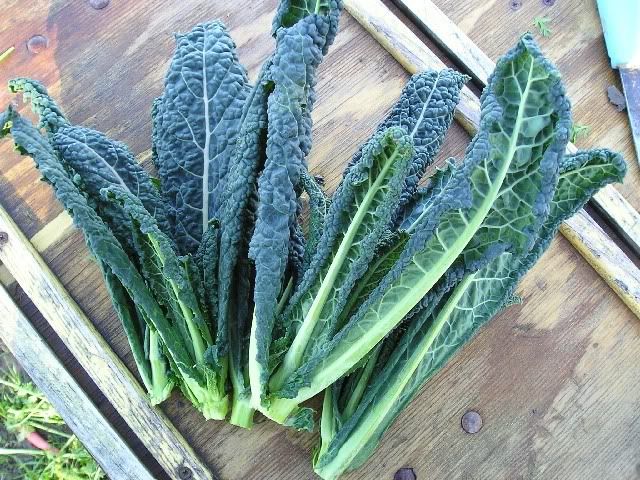 Photo Credit: http://i301.photobucket.com/albums/nn80/levi_spicoli/kale.jpg
If you want to sneak some vitamin-rich kale into your child's diet without them knowing, this is the recipe for you!
Kale, known as the "Queen of Greens", is one of the healthiest vegetables on the planet.  Just one cup of this stuff gives you 36 calories, 5 grams of fiber, 15% of your daily requirement of calcium, 180% of your vitamin A, 40% of magnesium, 200% vitamin C and 1,020% vitamin K.  It's also a great source of iron and potassium!
Vitamins A, C and K are antioxidant vitamins associated with anti-cancer health benefits AND kale is associated with lutein and zeaxanthin, which promote eye health.  Moreover, the fiber content of kale helps reduce cholesterol and the risk of heart disease.  If this didn't just convince you to add a little more kale to your diet, I don't know what will!
Try out this recipe as a nice and easy introduction to this nutritionally-packed veggie:
1 medium onion , finely chopped
1 bunch of carrots
2-5 stalks of celery
3 sweet potatoes
1 large bunch of kale
salt and pepper
fresh parsley
1 lb red lentils
2-3 cartons chicken soup stock
Saute onion until golden brown.  Then add lentils to onions and cook for about 2 minutes, turning constantly until lentils slightly open.
Can be made in a slow cooker or in a regular pot on low for as long as necessary until lentils can no longer be seen.
Add chicken broth to onion and lentil mixture.  Add carrots, kale, celery and sweet potato (finely chopped) to onion and lentil mixture.
To thicken up the soup and to add texture, slice one small sweet potato lengthwise, about the thickness of a potato chip and add to the soup mixture.  It will melt and dissolve.  I make mine in a slow cooker so I can set it and forget it.  Hope you enjoy!  Leave a comment and let us know what you think!